[an error occurred while processing this directive]
---
Saturday 4/11/09
Tides: AM - PM Low: 3:20 - 3:24 Island Beach Area
AM - PM High: 9:13 - 9:33
Wind: Northeast 3 - 8 Knots.
Point Pleasant Wave Heights: 2 - 3ft.
Sinker Ounces to Hold Bottom: 4oz.
Air Temperature 50f.
Water Temperature: 46f.
Current Weather: Foggy, rainy.
Beach Conditions: IBSP IS OPEN.
Flies and Mosquitos: No problem.
Water Clarity: Clean.
Tanning Index: (1-10) 0

ISLAND BEACH STATE PARK REPORT

4-4-09 Surf Conditions
4-6-09 Weather Conditions
4-7-09 Fishing Conditions
4-9-09 Fishing Conditions
4-10-09 Fishing Conditions
4-11-09 Weather Coniditions


4/11/09 UPDATED 7:12 AM Foggy and rainy today with a light northeast wind. Don't expect to see too many guys, but you never know. Had 2 go out already this morning.

Yesterday's report: UPDATED 6:32 AM Stunning sunrise this morning and perfect fishing conditions. All week we were told it was going to rain all day today and tomorrow. At the last minute the report was changed and now it's light rain tonight, and AM showers tomorrow morning. I forgot to mention a fish that was reported by one of our regulars on Wednesday. Rich Nunn and his wife went out and nailed a 25 incher on clams. Great job and thanks for the report.



This page will automatically refresh every 5 minutes!
Visit Seabreeze Boats the next time you are in Seaside Heights.
Click on the above card for additional information.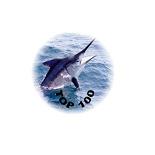 ---
---
---
Fishing Long Island with Dave
Fellow Fishermen reports from up north can be found at: http://www.ScreamingReel.com/fellowfishermen.html
---
Asbury Park Press Sports
Fishing Reports can be found at:
www.app.com/sports/fishing/1,1660,0,00.html
---
Current Tides Barnegat Inlet, NJ
---
[an error occurred while processing this directive]